Angus Beef Burger
Serves: 1
Preparation: 10 Mins
Cooking: 15 Mins
You can never go wrong with Angus Beef Burger! The beef patty is accompanied by fresh red onion, lettuce, tomato, and pickle, topped with cheddar cheese, and crispy bacon on a sesame brioche bun. Complete the dish with french fries and coleslaw salad that will give heaven to your taste buds.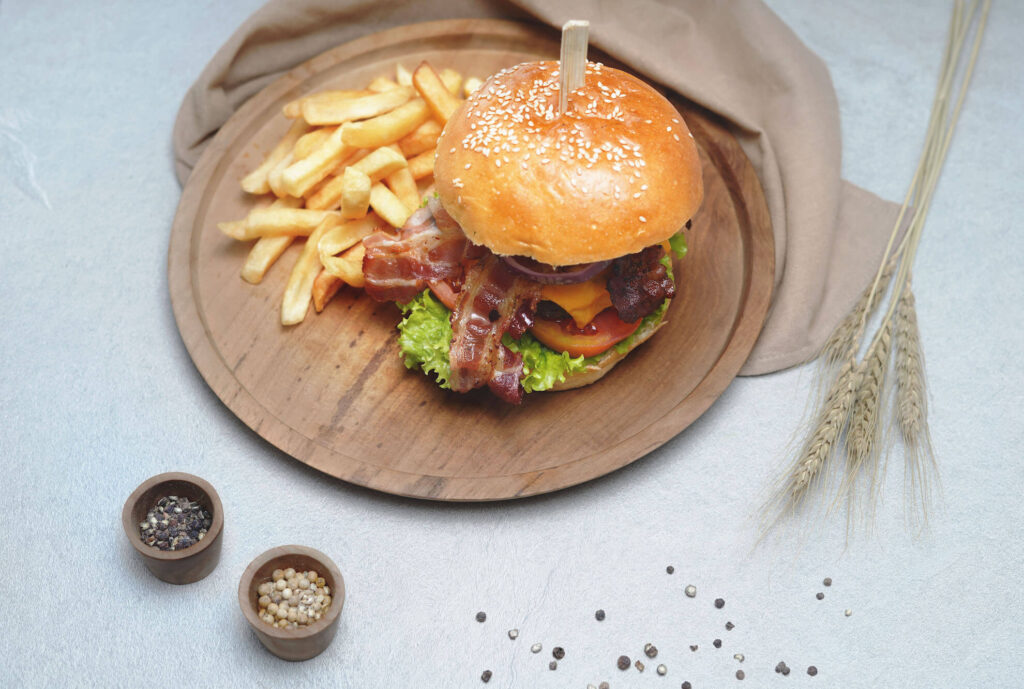 Ingredients
Burger Patty
¼ pounder of Angus Beef
1 egg, mixed well
Salt and pepper, to your taste
1 diced white onion
1 tsp parsley
To Serve
4 strips of bacon
Cheddar cheese
Red onion
Lettuce
Tomato
Pickle
Sesame brioche bun
Condiments (BBQ sauce)
French fries (additional)
Coleslaw salad (additional)
Method
To make the patty, combine the ingredients in a large bowl and mix them thoroughly with your hands.
Leave the patty out for maximum exposure. Place the patty on the grill and cook it to your preferred level of doneness. E.g., rare, medium-rare, medium-well, or very well done.
Cut the sesame brioche bun in half while the patty is cooking. Prepare any fresh vegetables you'd like to include in the burger, such as red onion, lettuce, tomato, and pickle.
Once the angus patty is cooked, fry the bacon until it is cooked to your desired crispiness.
Slide the meat and bacon into the bun and top it with melted cheddar cheese and the vegetables you've just cooked.
Add any condiments of your liking, whether it be ketchup, barbecue sauce, or mayonnaise.
To round out your meal, go with either a coleslaw salad or French fries. Enjoy!