Chicken Schnitzel
Serves: 1
Preparation: 10 Mins
Cooking: 15 Mins
Chicken Schnitzel is the perfect comfort food. It's a meal everyone will enjoy and love. This dish is completed with house salad, lemon slices, and French fries that provide a tasty side dish to your entree.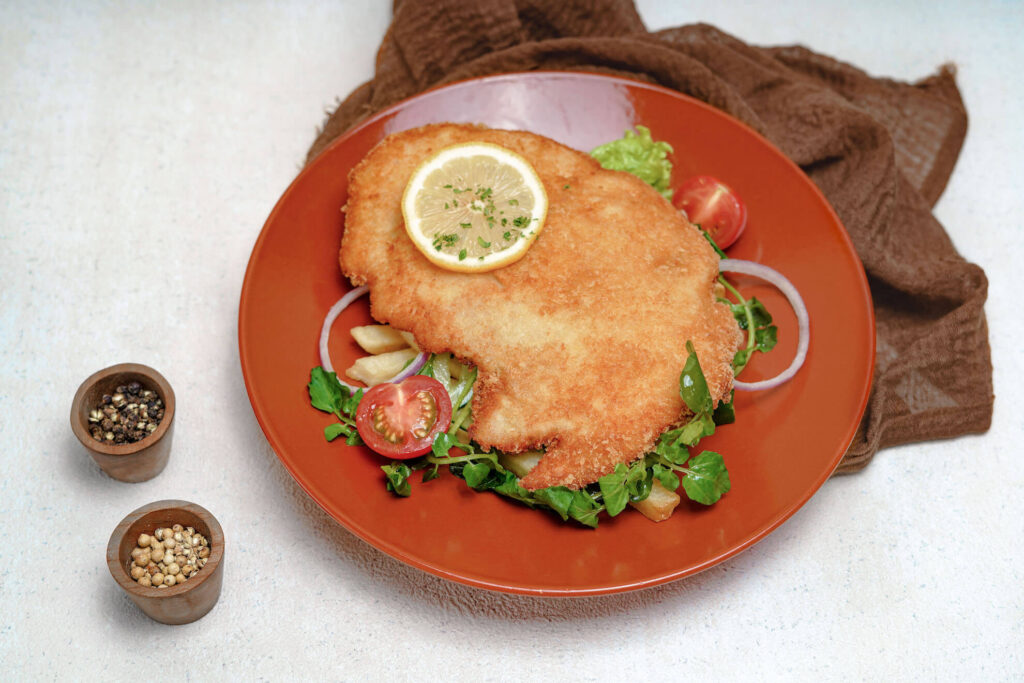 Ingredients
1 lb of boneless skinless chicken breast (marinated with salt and pepper beforehand)
½ cup of all-purpose flour
2 large eggs
1 cup of breadcrumbs
Salt and pepper to taste
Vegetable oil
Fresh lemon wedges for garnish
Salad (optional)
French fries (optional)
Cheesy chicken wiener (optional)
Method
Pour flour, egg, and breadcrumbs into a separate bowl.
Place chicken between 2 large pieces of plastic wrap and pound until thin without tearing.
Coat the chicken in the flour mix, then shake off any excess flour. Then, dunk it in the egg mixture and breadcrumbs.
Heat the vegetable oil in a skillet over medium-high heat. When the oil is 160°C, cook the schnitzel until it is golden brown and the oil sizzles.
Serve the schnitzels with lemon wedges. If you're feeling a little bit extra, you can add several options to your dishes, such as salad, french fries, or cheesy chicken wiener!