Grilled Salmon Steak
Serves: 1
Preparation: 15 Mins
Cooking: 15 Mins
This dish is the perfect meal to savor any time of day, whether it's a relaxing lunch or dinner. The grilled salmon steak is served with anchovy butter on tomato coulis, green asparagus spears, and mashed potatoes.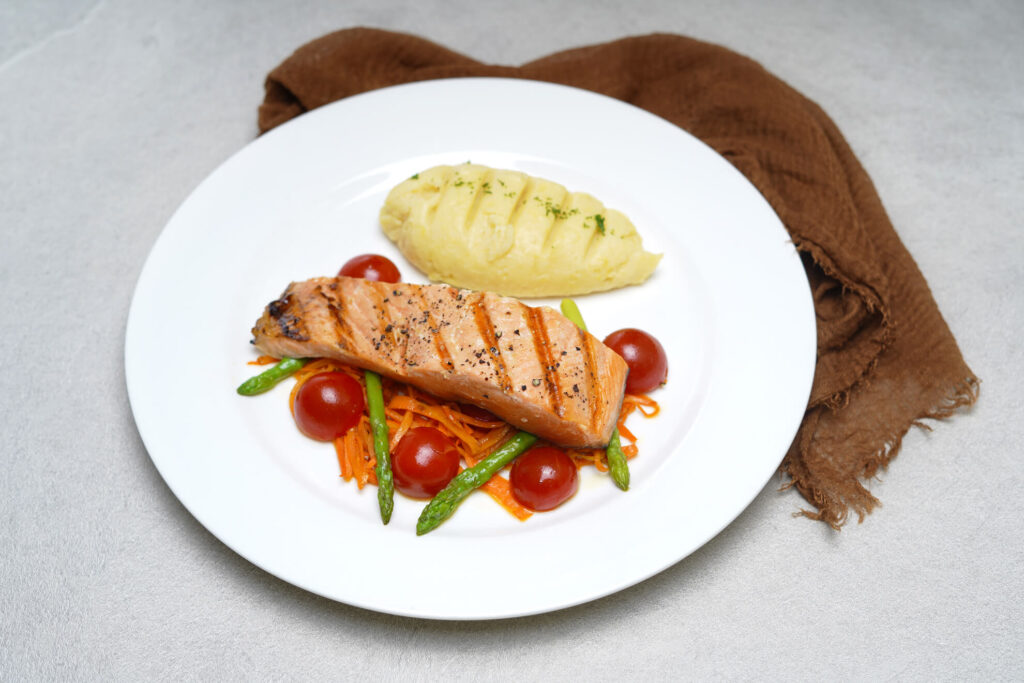 Ingredients
Salmon
Norwegian salmon
Salt and pepper to taste
Vegetable oil
Asparagus
Cherry tomato
Lemon
Mashed Potato
4 medium potatoes
¼ cup of milk
Salt and pepper to taste
Tomato Coulis
4 medium fresh tomatoes, quartered
1 garlic clove
3 tablespoons extra-virgin olive oil
5 basil leaves
1 tablespoon Fresh Parsley
Salt and pepper to taste
Method
Salmon
Preheat the grill pan before cooking.
Brush both sides of the salmon with vegetable oil, and season it with salt, pepper, and a little squeeze of lemon. 3-5 minutes gives a medium finish—6 minutes for well-done.
You can also serve asparagus or cherry tomatoes with the salmon if you want more vegetables.
Mashed Potato
Cut the potatoes into cubes after peeling them. Add them to a large pot with lots of water and bring to a boil.
Add a little salt and cook it up on the stove. Cook the potatoes until tender.
Mash the potatoes once they've finished cooking. Add enough milk to the potatoes to make them velvety. If needed, season with additional salt and black pepper.
Tomato Coulis
Place all ingredients in the blender. Once everything is chopped up, turn it up to medium-high speed and blend for a few more seconds. Pour the tomato mixture into a strainer.
The salmon steak is ready to be served with the tomato coulis on top!